Professional Pool Table Moves in Reno
Our pool table technicians have been serving Reno, Nevada for years. We have built a solid reputation with our customers performing thousands of professional pool table moves and pool table repairs.
What's involved in pool table moves?
Our technicians professionally perform pool table assembly and carefully level the slates and frame giving you a perfectly flat playing surface on the pool table. We tear down your pool table, load and safely move it to the new home.
Members of the American Billiard Installers Association, we are a recognized business in our industry.
Pool table moves with our nationally backed company are a breeze!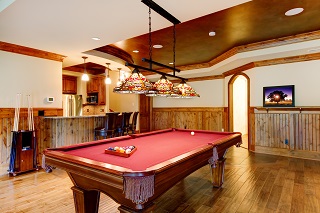 Our tools used to level the pool table after moving it are precise and we guarantee our work. Machinist levels and special tools are generally needed for a smooth move and installation job of a pool table.
Pricing depends on the dimensions of the pool table, the type of move and circumstances surrounding the move.
We are residential and business pool table movers. Pool table moves in businesses may incur extra charges in the event we encounter complicated moves with elevators or have parking issues for your job.
We may charge extra for stairs when moving a 3 piece slate pool table. In some cases, we will not move 1pc. slate tables.
Pool Table Repair with Service Guarantee
Pool table repairs should be taken seriously and be done by professional technicians experienced in pool table repair. Our pool table repair service is covered by the ABIA guarantee, which eliminates risks and ensures that we will give you the best service you can get in the market.
Why have your pool table repair professionally done?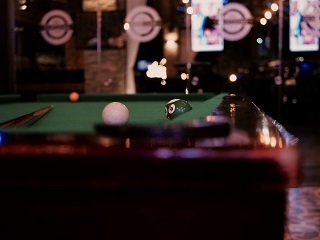 Even if you aren't an avid billiards player you still know the benefits of playing on a professionally set up and properly leveled pool table. We're sure you also know what it's like to play pool on a ragged old, unprofessionally installed and out of balance pool table.
And what are the differences between a bad game and a nice flat playing billiard table?
To begin with, the felt should be in good condition and well maintained, not to mention applied correctly by a professional. You also want to make sure that your pool table is correctly leveled.
There are a few different things that can cause a pool table to be unlevel.
They are all pretty simple and a few of them can be fixed quite easily by an experienced pool table installer. In most of the cases, the billiard table becomes unlevel because of trying to move or repair your pool table with a "Do It Yourself" guide or tutorial.
In other cases, it happens that a non-professional or "cheap" technician inexperienced in pool table repair caused your pool table repair to be substandard, leveling to be out of balance and sadly, it will continue to cost money to have the pool table repair to be done by someone with the proper experience and tools.
The process of moving, repairing and installing a pool table on your own can turn into serious damages and injuries for you and your pool table.
We urge you never to attempt to service a pool table if you are not professionally experienced not only do you risk damage or injury, there is also the problem with the table not being level when you are done moving it, requiring you to call a pool table professional in the end anyway.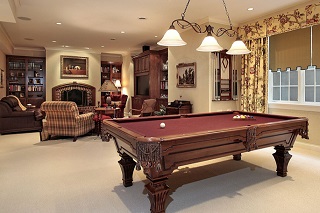 Let Reno Pool Table Movers take care of all your pool table needs.
The cheapest and fastest way to get pool table service done correctly is to call a professional like us. Our professional pool table installers will set up your pool table with proper tools and shimming techniques according to the type of floor it will be installed on. Each piece of slate will be leveled at an extremely precise level to ensure that your pool table installation will be 100% accurate and flat.
This process of leveling the base, wedging, shimming and tightening screws on the slates takes the experience to be done correctly.
Reno Pool Table Movers provides moving services and pool table repair for most pool tables. We move from home to home, business to business or garage to garage for storage. We do complete moves, tear down only, pool table repair, set up or installation only and pool table recovering done by professionals.